I wake up in the morning by the deranging sound of my alarm. That deafening sound that seems to pierce into your dreams to deflate the pleasant moments that you navigate between reality and fantasy. In your dreams, time and distance have no meaning. Life and death are interchangeable events. You see and feel people who have left you. You hear their voices, you see their smiles. You start asking yourself if there hasn't been a mistake and they are still in your life. Then that beeping sound starts, reminding you that alas, some voices will no longer be heard and some smiles will never be appreciated again.
I find myself standing under the rain. This year, the summer rain in France has been a phenomenon. It pours as is if the city is dislocated to a tropical country. Tourists look like walking-trash-bags wearing cheap ponchos to protect themselves from this monsoon. As for me, I have an umbrella, a small colorful umbrella, that only protects my head. The rest of my body is soaked in rain. Water is flowing on the pavement, washing down with it all the dirt on the streets. I see my feet being soaked in this water and try not to think too much about the microbes crawling on my toes.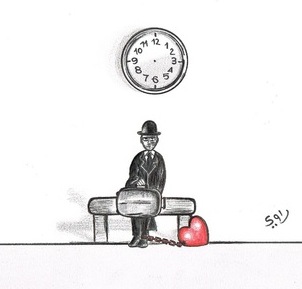 I am standing here waiting for my friend in front of a church in one of the busiest places of the capital. Around me, I see many people waiting. Some are like me, waiting for their buddies, and some are just waiting. Waiting for the day to come to an end and another one to start. They will wait everyday for a new day, with no aim, but with the hope of finding one.
In our waiting, we are all equal. A day is always twenty four hours.
While I am waiting, my mind takes off and wanders in its imagination. I am carried along like a boat on a sea following the wind. As in my dreams, time loses its meaning. I travel to the unknown shores of the future. I wonder how will my friends look like in twenty years time. Where will they live? Where will I live? I imagine myself older, standing in front of this same church and I wonder which stores will disappear, will the future tourists look more elegant under a pouring rain?
As always, my mind starts to play games on me when I least expect it. It takes me places that I resist to go. Dark tunnels that only leave me perplexed and frustrated. I see a little snapshot of me waiting for you in a café. I imagine a scenario where I have contacted you to tell you that I am in town and we have decided to meet up after many years. I sit in a café and while I wait for you, I wonder how you look with grey hair? Have you kept your irresistible gaze? Do you still find humour in everything? Will I be finally over you or will there still be something silenced underneath the appearances? I am so curious to see how things will be in 2034.
At this point, I see my hand going to my cell phone as if wanting to cut the time short. I find your name and stare at it for a while. The devil is murmuring in my ear: "Send him a message, just ask how he is doing. No harm in it", he says. I type few lines, struggling with the annoying autocorrector. My finger goes for the Send button. I try to imagine your face when you will receive the message but I have a hard time deciding if I see you happy, indifferent or irritated.
As I am about to convey my message to the electromagnetic waves, I hear the echoes of my name in the background, as if someone is waking me up from a deep sleep. My friend is standing next to me, looking at me with his curious eyes. I quickly push the Cancel button. I don't need to tell him what was about to happen. I know what his reaction would be. "Let him go, don't torture yourself so much", he would say.
So despite myself, I let you go. Everyday a bit more.
If one day we meet, maybe we will have plenty of stories to tell to each other, or maybe a simple hello will sum up the bitter indifference that is reigning on us.