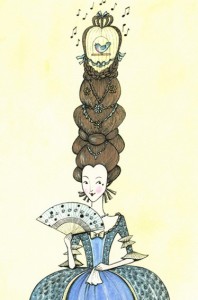 We run under the thunderstorm and try to find a refuge. She suggests that we enter a bar and take a drink while we wait for this summer craziness to pass. We sit and order two glasses of Alsatian white wine. I let her choose for me, as she knows better when it comes to wines. I look at her short hair trenched in shower. She has not changed much, a bit rounder but the same face, the same smile. I remember that we were fourteen when she cut her hair this short for the first time. She came to school and we were all shocked to see the big change. She told us that the hairdresser didn't want to cut her hair, but she insisted and she was very happy with the result. In the eighties, using styling gels were very much in fashion, and her hair was as wild as it could be. I always admired her courage when it came to changing her hairstyles. She would always say, "In worst case scenario, I will put a wig until my hair grows back, nothing is definitive".
She sips on her wine and tells me that since she is living here she has grown to love the Pinot Gris. She likes the wine and she likes the flowers in the streets! It is two years that she has left the city that was the city of her dreams. She had told me many times that she felt she had found the place she would like to live. She had plans to buy her own place and settle down. But then one day she told me that she has reached a dead end, that she is suffocating. I had never seen her so desperate. At the time, I told her that she needs a change, she needs a new start. I told her that sometimes we get stuck in a rut and the only way out is to do a U turn, to start all over again. She listened to me and despite the big risk, packed her bags and went to a place that she knew nothing about.
And now here she is, sitting in front of me and telling me random things about her life. She tells me that she is happy with her life and her job, that she has found new friends and some sort of serenity. Then, she looks at me with her black eyes and I notice a cloud. Despite the stories she tells me, she seems to be down. She notices my silent inspection. She stops talking. Her eyes get moist and she looks away to the pouring rain outside.
"What is wrong?", I ask.
She hesitates a bit and finally she says: "I feel that I have wasted my whole life".
There was nothing I could say. There is nothing one can say to such a statement. This time, I can not advise her to move again. Her problem is not the place, it is what she carries with her, and she will carry it with her until the day she realizes that the baggage is too heavy and she has to get rid of the cumbersome parts.  She knows better than me that she has not wasted her life. She knows that she has done her best, but whenever "her best" was not enough, she saw herself as a failure. She knows that life is just a brutal game, a Russian roulette. A game of hazard where some win and others loose. The game starts day after day, under different conditions. Sometime we manage to save the loss and rebound, and sometimes the bullet is very efficient; it obliges us to come to terms with the reality and forget projects that once were so trivial to achieve. In this game, time is our ally and enemy at the same time. The passing time, reminds us of the futility of it all, and at the same time it allows us to move on. It heals wounds and promises a sunshine once the storm has passed.
I take her hand, hold it in mine. I hold her hand and I look at her again. Her tears have dried up and she is smiling again. I know every line, every spot that is drawn on her face. I have been observing her since she was a child discovering her features in a mirror, a teenager struggling with her acne, and now a woman in her forties getting wrinkled and grey. She is my mirror and I am hers. We are the Yin and the Yang. The passion and the logic. We need each other to go forward, to overcome this battle. I will be with her until the day she will no longer be able to run under the rain and have a glass of wine. Until the day she will no longer look at me when I call her name. Until the day when having "wasted" her life or not will no longer have any importance. Until the end, when all she will wish for will be the eternal peace.
Until then, I hope I can see her internally smile and hear her say, with her eyes, that life is finally good, as she wish it to be.